Slate roofing and Copper sheet metal
Slate Roofing was very popular in Parkersburg WV, Charleston WV, and Marietta OH. Slate roofing was first installed on churches and older homes in the late 1800's and surprisingly enough most of them are still water-tight. Slate roofs have a longevity of approx. 150 plus years. Slate Roofers are far and few in between, it is becoming harder to find slate roof contractors here in Parkersburg WV, Charleston WV, and Marietta OH. Many contractors advertise slate roof and slate roof repair and are not familiar with the slate material or its applications or have the tools to work with slate. This creates many performance issues that are to blame for slates leaking within the first 100 plus years.

There are a lot benefits when choosing a slate roof for your home or building project. Slate roofs are truly green and environmental friendly and will always be, as well as fire resistant. Of course it has a valuable longevity and has an appearance that many different manufacture companies have tried to replicate and don't seem to quite get there. Some of the disadvantages to installing slate roofing are first finding a contractor with slate roof experience that has reasonable rates in your area, most reputable slate roof companies will travel for additional travel expenses. Slate roofing is a heavy product that requires additional labor. A slate roof project will be a large investment up front, but when you consider many tear offs with other products the cost is not as monumental as it seems.

Slate roofing goes hand in hand with copper work, all slate roofs should use non corrosive materials that will interact with the slate product. Copper nails are easier to pull than hot dipped galvanized nails, Thus preventing disruption of the slates around the area to be replaced Copper flashing in the valleys also gives the slate roof that authentic appearance as it patinas. All of the step and counter flashing should be copper as well.

Maintenance is a must with slate roofs here in Parkersburg WV, Charleston WV, and Marietta OH. A lot of the homes here have been neglected for last 100 plus years and are in need of repairing. Most of the issues are around chimneys, walls, and penetrations of the slate roof. Most of these issues are from terne metal flashing being used instead of copper that has not been maintained and repainted. Some of the issues come from faulty repair work by unskilled contractors with good intentions that have common knowledge of how a roof functions but leave more of a problem than when they started. Missing or broken slate need to be replaced as soon as detected. The use of binoculars are good to find them, the slates are not flat against the roof decking there is an air gap that lets moisture evaporate this is why you don't want any unnecessary traffic if it can be avoided.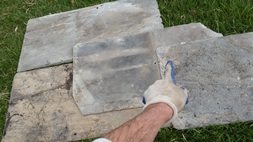 Here is a picture of a head lap. The head lap is where 3 layers of slate are over lapping. This is a crucial part of slate roofing, most common mistakes are insufficient head laps, negative head laps, and zero head laps. This can cause a whole roof to be removed and replaced. The head lap is what makes the system water-tight, if there is no head lap it will penetrate through and the system will rely on the underlayment. The standard is 3in head lap but this varies with the pitch. The picture shows a 2in head that was removed from a 12:12 pitch this is ok as long as the application was installed with precision, if one course dropped an 1/2in the roof would be compromised. This would be extremely difficult to fix. Slate should not be installed on no less than a 4:12 pitch. One easy way to find out what head lap an existing structure has is look at the rake end and measure the area that laps over itself 3 times and you should see at least 2in or more. A lot of the slate roofs installed in the Mid-Ohio Valley have 1 3/4in head laps and have been successful for 100 plus years simply because of the steep pitches. Some of the issues that arise with this is the bottom course and the valleys build up ice dam that causes the decking to have extra moisture and eventually fail.
---
This picture shows the use of ladder hooks. They are very useful for replacing bad slates. We use them to not only assist the roofer but to also distribute the weight over a larger area.

---

This picture shows the use of cushins to dispurse the weight of the roofer. The installer will carry 2 of them and flip one in front of the other to prevent walking directly in the slate itself.

---
Slate tools are specifically used only for slate the standard carpenter tools will not work. The Basics of slate roofing tools consist of slate hammer, slate ripper, slate cutter, slate nail set, ladder hooks (chicken ladders) and slate brackets and more. The picture below on the left shows a new copper valley. The picture on the right shows a new 29ga 40yr painted metal cap installed.