Copper Roofing, Copper Accents, Ornamental Copper, Copper Gutters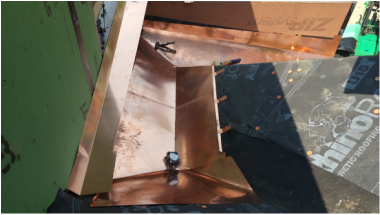 ​Copper is durable, corrosion resistant, very versatile and weatherproof. Copper roofing dates back to over 10,000 years ago. Copper is a material that you can make almost anything with. Copper gutters, copper downspouts, copper roofs, copper flashing, copper chimney caps, copper dormers and lots of ornamental copper. It is unique and very distinct with many characteristics. The Statue of Liberty shows how versatile copper is. The Statue of Liberty is over 130 years old, and still looks flawless.
---
Copper turns many different colors. From salmon pink to oranges, chocolate brown, dull slate gray and lastly natural green. The copper's natural green patina has long been admired by architects and designers. The final color, natural green, is highly resistant to atmosphere corrosion and is the most durable. The green patina protects the metal from further weathering. Bacteria can not grow on it. The final patina color will take 10-30 years to fully change.
---
Copper can be installed using many different techniques. From flat seam copper roofing to flat locked & soldered copper to traditional standing seam copper and lots of custom copper. Copper roofs and copper gutters are on an increasing scale due to its longevity durability and many other advantages. Copper roofs are little to no maintenance after installed. It is the only roofing product that strengthens over time. Copper may cost more in the beginning, but is well worth it and is very cost effective. Normally, copper will not need to be replaced during the life of the building. Therefore, the initial cost is an investment and will save you lots of money in the future.
---