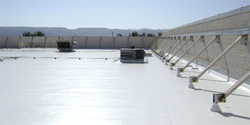 TPO (Thermal Polyolefin) is the #1 rated and selling flat roof system in Parkersburg WV and Marietta OH available today and has so many advantages against the other membranes. It is a very common roof system used for restaurants industry because the grease that vents out of the kitchen does not deteriorate the membrane. It comes in 3 colors white, grey, and tan and is widely known as a cool roof because of its reflectivity. TPO is also a hot air heat welded system. What this means is, the seams are sealed by melting the product to itself so there is no adhesions to fail. Thermo-can be reheated again and again and does not cure it keeps its flexibility. Although TPO exhibits positive characteristics of thermo plastics it does not however have any plasticizers added to it this makes it chemically closer to rubber but being much stronger harder to puncture and tear than rubber.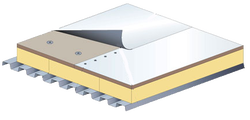 TPO is to be known as the white weld able rubber of the future, sales have increased from 2007 to 2012 by quadrupling The gross sales of the TPO exceeds all other flat roof membranes. TPO is also considered a green roof product it is safer for the installers and is 100 % recyclable.

TPO's application can be fully adhered or mechanically fastened or ballasted. TPO strength is to be 3 to 4 times higher than E.P.D.M. roofing systems. TPO so it does not degrade under UV radiation. This is truly my first choice for any flat roofing system.