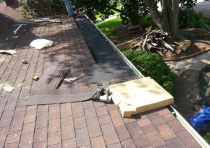 Steps to replace broken or missing shingles the right way. Broken shingles are both ugly and a leak waiting to happen. As long as we can find matching shingles and the weather is not too hot because they scar and as long as it's not too cold because they crack we can get started.

First we will determine which ones to replace and carefully remove the bad shingles with a pry bar making sure not to tear the shingle above and remove the nails.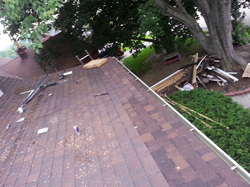 Now it's time to insert the new laminate after pushing the shingle in place put the nail in place tap it until it stands alone and then drive the nail on in. After we have replaced the new shingles we can go ahead and seal the shingles in place. The reason we do this is because when you remove the tabs you break the seal so now the shingle doesn't have any adhesion it is only held by nails and this is not acceptable. We only use the best sealants such as GEO Seal and Solar Seal these products keep their elasticity. Usually you will put a few dabs where the nail go and push the shingle into it. This prevents any future blow offs in that area.

Here in the Mid-Ohio Valley we have high winds and lots of shingle in need of repair and replacing. This is not for the do it yourselfer you need to call an experienced pro. It usually is not expensive to repair a few shingles.